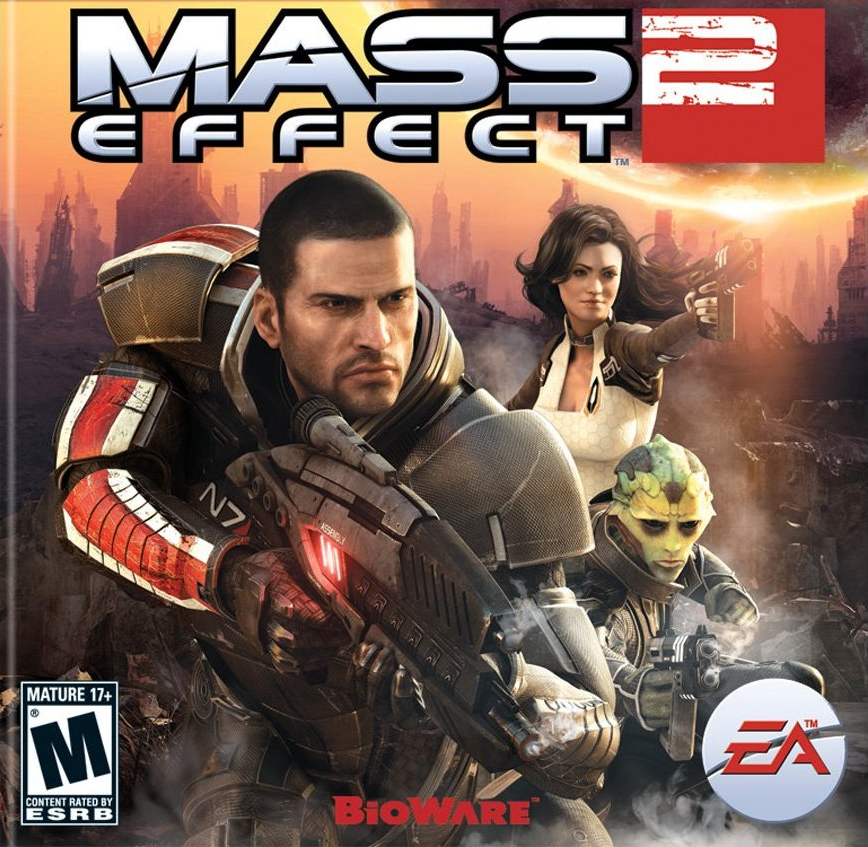 Mass Effect 2 é  um jogo de RPG  desenvolvido pela BioWare e publicado pela Electronic Arts  lançado para PC e e Xbox 360  em janeiro de 2010 ,  é a seqüência de criticamente aclamado 
Mass Effect
  (lançado para PC e e Xbox 360  com notas  9.2 e 9.4 para as respectivas verções pelo site IGN com qualificação editor´s choise em ambas e ganhador de mais de 80 prêmios) e Mass Effect 2 ficou com 9.6 para ambas as versões também com a qualificação editor´s choise em ambas .
É difícil falar de Mass Effect 2 sem dar Spoilers do 1 mas  tentarei fazer isso ao Maximo,
A história se passa logo a pos o fim de
Mass Effect 1
(que se passa  em 2183 , a humanidade   tem colônias em outros planetas e convive  em existência relativamente pacifica com outras raças)  e novamente você assume o papel do comandante Shepard,seu segundo nome você escolhe o primeiro,. ( um homem ou mulher dependendo de sua escolha, e a aparência também pode ser editada , ou pode escolher a  default,   nesse ou no primeiro jogo pois você tem a opção de importar os saves de Mass Effect 1 para o 2, e suas escolhas são mantidas , fora a
Classe
  (que vai desde especialistas em armas até usuários de biotics, a força do jogo,) que pode ser mudada, mas você recebe bônus nos pontos  de habilidade  para distribuir como quiser e e em maldade ou bondade conforme se portou no 1, mas personagens mortos , escolhas feitas  tudo influencia o 2 se o save do 1 for importado). você  continuara a caçar os inimigos do primeiro jogo, até que você é morto mas é trazido a vida 2 anos depois por uma corporação de índole duvidosa e é incumbido de investigar o misterioso desaparecimento  dos habitante de varias colônias humanas pela galáxia, a mais elementos de RPG , as armas e a armadura podem ser customizadas e você  terá mais controle dos outros membros de seu grupo durante os combates podendo até realizar combos. a e lembrando que como no primeiro jogo você pode ter relacionamentos amorosos  (e sexuais e mostra as cenas mas nada explicito) e o jogo terá muitas escolhas que influenciaram o final que por sua vez influenciara   Mass Effect 3 já anunciado para o  ano que vem então lembrem de guardar o save, a e outra inovação são as armas pesadas como lança foguetes e granadas  e  eu já joguei os dois e dou minha recomendação pessoal(espero que valha algo hehehe)a e só pra contraria o vídeo da classe eu peguei infiltrador e não soldado nos dois jogos heh..  a e o jogo também contara com quick time events que podem dar pontos para o bem ou para o mal(para que esperar o vilão dar o discurso atire logo nele ahah, mas isso Dara pontos na maldade, ou o soldado será morto se continuar impeça-o de cometer um erro que pode lhe custar a vida, e obvio isso lhe Dara pontos em bondade).
Mass Effect 2  para  X Box 360 pode ser adquirido na UZ Games por  269  Reais
Mass Effect 2  para PC pode UZ Games por  99  Reais
  Mass Effect  para Xbox 360 pode UZ Games por  159  Reais
 Mass Effect  para PC pode UZ Games por  99  Reais
Lista de DLC de Mass Effect
Bring Down the Sky
uma grande missão extra onde você tem que impedir que um asteróide móvel  de pesquisa se choque contra uma colônia humana, nota ele foi desviado por um grupo extremista de uma nova raça os Batarians.
Pinnacle Station
Uma estação de treinamento onde voce pode tentar quebrar records  e se quebrar todos pode ganhar uma casa e a oportunidade de comprar  otimos itens.
Mass Effect 2 Critica Internacional :
94.24% (PC) e 95.74% (Xbox 360) no GameRankings, tornando o terceiro jogo mais cotado de Xbox 36até agora, o 4° de todos os tempos de PC,e 18° de todos os tempos
Publicação  Nota
1UP.com     A-
Eurogamer     10/10
Game Informer  9.75/10
GameSpot  9/10
GamesTM  10/10
GameTrailers   9.7/10
GameZone      9.25/10
Official Xbox Magazine  9.5/10 (UK 10/10)
PC Gamer UK  90%
PC Gamer US  90%
PC PowerPlay 10/10
X-Play  5/5
bit-tech.net  10/10
Hardcore Gamer   5/5
Prêmios de  Mass effect:
E3 2006  Game Critics Awards' Best Role-Playing Game.
1 spot on IGN's list of "The Top 25 Xbox 360 games.
durante  Spike TV Awards, o jogo venceu  "Melhor RPG".
GameTrailers premiou  "Melhor RPG" e "Best New Game Franchise."
Durante a Reader's Choice Awards, TeamXbox deu o premio  "Melhor RPG" e "Melhor Story," e tambem  "Game of the Year"
GameSpot deu  "Melhor atuação de voz" e"Melhor Musica Original."
IGN premiou "Melhor RPG," "Best Original Score," e "Melhor Story."  
 E por ultimo e  não sei se é importante, bom o jornal é um dos mais importantes mas não sei se entende de games mas o jornal  norte americano The New York Times reconheceu Mass Effect como o  "Jogo do Ano."  Uma lista completa de prêmios pode ser encontrada no site oficial do jogo
Comentários
Sem Spoiler Por favor.