Vocês devem ter notado a escassez de posts meus e da série Vega Vs. desde seu primeiro episodio, eu ando muuuuuuuuuuuuito ocupado esses dias com constante trabalho em minhas costas, então para resolver minha escassez decidi fazer reviews de jogos recentes que joguei mais uns dois que ando amando esses dias.
Metal Gear Solid V: Ground Zeroes
Apresentação otima, pessima execução.
Metal Gear Solid V: Ground Zeroes serve como um prólogo magnifico ao tão esperado Phantom Pain com seu mundo aberto lindo e cheio de opções de jogabilidade em termos de gameplay que pode ser recompansante em varios aspectos.
O cenário e a iluminação exercida pela FOX Engine são aspectos marcantes desse jogo que traz uma vibe única para o jogo com infinitas formas de execuções de missões.
Ate que você lembra que essa piorra tem uma 1 hora de duração e um preço de 30 doláres por um simples prologo que poderia ter cabido no Phantom Pain do mesmo jeito que o capitulo Tanker e o Virtuous Mission foram incluidos nos Metal Gear Solid 2 e 3-Snake Eater.
Kiefer Sutherland é bem mais natural como o Snake do que Hayter e faz uma ótima atuação (sem mencionar que ele não parece como se tivesse tomado rémedio para tosse ou se ele tivesse fazendo uma pessima imitação do Batman do Christian Bale); Mas ele parece meio robotico no jogo e ele tem poucissimas falas durante todo o jogo.
Por seu aspecto bem fraquinho em termos de duração e o fato que a KONAMI nem teve a cara de pau para incluir algum aspecto como o beta de Metal Gear Online.
Eu dou um 7.5/10 para MGSV
Skullgirls Encore
Ação rapida remanescente á Marvel vs Capcom; Gameplay Equilibrado; Modo História intrigante e constantes updates faz com que Skullgirls Encore seja uma ótima atualização de um Jogo de luta como Skullgirls.
Ele oferece muito mais do que os outros games de luta e possui varias alusões á comunidade de jogos de luta como os Eventos EVO; Animes como JoJo's Bizarre Adventure, HOTD e Cowboy Bebop; Games em geral; Quadrinhos da Marvel e até outros jogos de luta (como uma refêrencia inteligente á King Of Fighters no Modo História de Parasol).
Como desenhista, as animações são esplendidas e utilizam um programa como o Flash ao maximo e seus detalhes tendem a ser cativantes.
Minha única reclamação, o lag frequente no Modo Online que não é irritante mas as vezes faz com que a ação tenha o framerate cortado e isso pode causar desbalanceamento.
Eu dou um 9/10 para Skullgirls Encore.
South Park: The Stick of Truth
Não é mentira quando se falar que South Park é a melhor coisa que a raça humana criou desde pilula anti-engravidamento.
The Stick of Truth é um jogo RPG bem feito e que demonstra detalhes importantes e amor aos fãs da série com diversas referências á episódios que fizeram da franquia o que ela é hoje.
O humor negro é muito divertido, e consegue ser até mais engraçado com as cenas censoradas na versão europeia, com constantes palavrões, bizarrices e momentos nojentos que está por toda série; O jogo tambem tira muito sarro do elemento personagem silencioso em jogos de RPG com personagens como Link e o Dragonborn e até claras referencias á Elder Scrolls e Dungeons & Dragons.
Dou a South Park: The Stick of Truth 9.5/10
Yaiba: Ninja Gaiden Z
Eu sinto como se o Ryu Hayabusa fosse uma mulher sofrendo abuso doméstico.
Ele é constantemente machucado por seu marido, não quer mais ficar com ele e deseja que tudo isso pare, porém, por medo, ele não consegue dedurar as atitudes de seu noivo então está preso nessa tortura.
É isso como eu me sinto da serie Ninja Gaiden depois da instalação Yaiba; Eles tinham tudo para dar certo: Ninjas Ciborgues, Zumbis, a habilidade de jogar como um antagonista, a participação do Keiji Inafune, o modo 8-bits e até a habilidade de jogar como o Mighty No.9.
Mas não eles disperdisaram tudo isso com fases repetitivas; dialogos que parecem ter saido de um anime tosco dos anos 80; um sistema de combate que não traz nada de novo e mesmo parecendo com qualquer hack n slash como Devil May Cry ou God of War, essa joça traz uma expêriencia mediocre de combate que faz você se sentir mais como se tivesse fazendo um trabalho sujo do que um fator de diversão.
Sem mencionar a frustrante tentativas deles tentarem copiar o Goichi Suda por todo o jogo.
Apesar de alguns aspectos como o modo 8-bits, o estilo de arte interessante e uma certa rapidez e execução precisa dos controles; Yaiba Ninja Gaiden Z falha nos aspectos de gameplay e constantemente depende de quick time events como nas TRANSIÇÕES DE FASES (não estou zoando, andar por uma parede é um quick time event).
Eu dou Yaiba Ninja Gaiden Z um 4/10
Mercenary Kings
O que aconteceria se Metal Slug, Monster Hunter, Metal Gear e o Scott Pilgrim vs The World: The Game tivessem um filho (iria ser uma suruba total, e iria ser impossivel todos terem somente um filho cientificamente, mas você entendeu né)?
A resposta seria Mercenary Kings, um jogo para todas as plataformas (exceto Nintendo pois eles tão sofrendo bullying) que é uma jornada nostalgica e divertida dos anos 80/90 com um mundo aberto para explorar, diversos modos de customização e cenários e personagens bem trabalhados e animados.
O mundo de Mercenary Kings é bem amplo com diversos modos de matar seus alvos, o game tem varios elementos RPG e o modo de caça faz lembrar das batalhas épicas de Monster Hunter.
Diversos Elementos da cultura pop e dos games estão nesse jogo e faz você se sentir animado só jogando para ver ás referências, sem mencionar que mesmo com sua simplicidade em aspecto de gameplay, ele traz bastante coisas para explorar e para jogar.
O problema é que a jogabilidade pode ficar cansativa e repetitiva rápido após uma jogatina e os chefões geralmente são uns bundões, você tem que ir lá no quinto dos infernos para pegar eles e tentar mata-los, ai do nada quando estão com pouca vida, eles mudam láááááá para onde você tinha acabado de sair, aí você fica horas indo da Puta que Pariu até a Casa do Caralho.
Tirando isso, Mercenary Kings é um jogo divertido e recomendo para qualquer um que é um fã de jogos de fliperama, eu dou uma nota 8/10
Lightning Returns: Final Fantasy XIII
Essa Franquia é uma escória da humanidade, é horroroso que tal franquia exista, é dificil admitir que uma subsérie inteira quase matou Final Fantasy, é um pecado admitir que esse jogo exista ou até jogar-lo.
Se há coisa pior do que ser levado ao inferno de lucifer com uma sala somente para você, é o fato que algum dia você jogou Final Fantasy XIII, cujo eles estavam tão desesperados para ganhar algum dinheiro de sua carteira que eles colocaram a vencedora do terceiro X-Factor, Leona Lewis, no meio desse treco.
Enfim, Lightning Returns é uma espécie de sequência direta á Final Fantasy XIII-2 que foca na narrativa de Lightning (confie em mim, estou mais perdido na história que tu) e conclui essa sub-série Fabula Nova Crystallis para assim abrir caminho para Final Fantasy XV.
O Jogo é mais focado em ação em termos de combate e a habilidade de torturar a Lightning pondo varias roupas que vão de cosplay á roupas escandolosamente sexy como se ela fosse sua boneca Barbie em escala humana e com uma personagem "carismatica" igual a da Kristen Stewart.
O Gameplay ficou melhorado, com uma recompensa maior se você ir no caminho dificil do jogo e com varias opções de customização, sem mencionar a remoção daquele insultante Auto-Battle; Porém, não adianta ter melhorias se a sua história é uma coisa sem pé ou cabeça e que pode ser facilmente escrita por alguém que acabou de fazer uma fanfic yaoi do Kingdom Hearts.
Quer um jogo bom? Joga Super Mario 3D World, foi lançado ao mesmo tempo que Lightning Returns e é diversão ao maximo.
Eu dou a Lightning Returns um 5.9/10..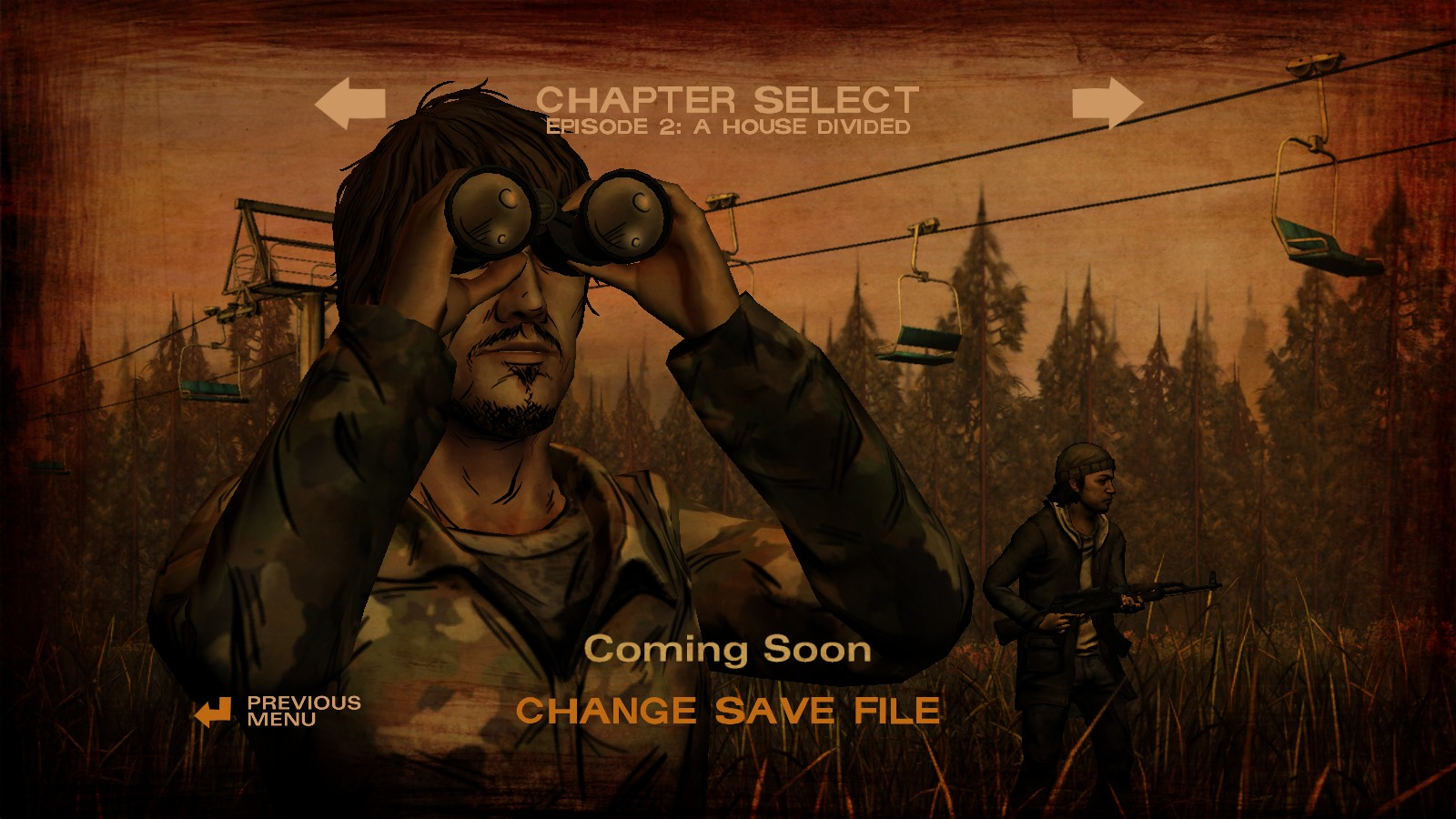 The Walking Dead Season Two: Episode 2
-A House Divided-
(Aviso: Há Spoilers)
Episódio emocionante de The Walking Dead Season Two, com ninguém para ela confiar do seu novo grupo de sobreviventes, a morte de uma das únicas pessoas que ela se dava bem e o desparecimento de Christa; Clementine encontra nada menos do que Kenny, um dos amigos mais próximos de Lee no Primeiro Jogo e o pai do Kenny Jr. "Duck"
A Narrativa permanece forte diante o episódio inteiro com uma trama bem-escrita e escolhas de fala significantes á história.
A Bonnie de 400 Days tambem aparece no episódio e consegue ser mais vadia do que já é, mas o brilho vai para o fato que Michael Madsen (O Vince "Mr. Blonde" Vega do Resevoir Dogs, que é irmão do Vincent Vega do Pulp Fiction) estrela nesse jogo no papel de Carver, o antagonista dessa temporada inteira, agindo como a figura do governador na série de TV.
A jogabilidade não há nada de mais, mas consegue ser mais fluida e eficaz com sua nova interface graças á Telltale Engine e os visuais estão mais suaves que os do Season One.
Porém, eu acho que The Wolf Among Us está ganhando mais a minha atenção que Season Two (sem ofensas á The Walking Dead).
Eu dou uma nota 8/10 para o segundo capitulo de The Walking Dead: Season Two.
E ai gostou?
Então comente e diga qual jogo devo fazer review, não esqueça tambem de nunca deixar de visitar esse site.
Agora com licença, vou tomar um chá de sumiço 😉